Hello all:
I am doing NPT simulation (fix npt ) of Polymer in electrolytes.
I want to create a vacuum at the bottom of the simulation box and all atoms cannot go into. The situation is shown in the figure. What is the best way of doing this? If I do not use a vacuum, and use a "fix wall" and "boundary p p f" to build a wall at the two faces of Z-axis, could the Cl- ions at the bottom still interact with the Na+ ions at the top?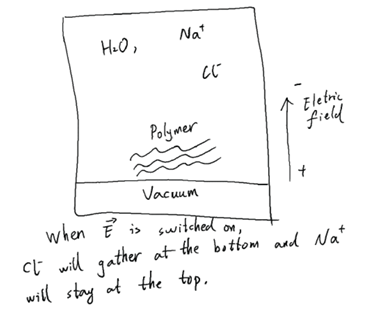 I want to use a vacuum because if I apply electric field along Z-axis, ions will be driven to the top or bottom of the box and they will not cross the boundary. The polymer is at the bottom of the box by using "fix spring".
By the way, if there is no vacuum and when electric field is used along Z-axis, will ions gather into the bottom and top of the box?
I mean, although there is an electric field pushing positive ions (Na+) up and negative ions (Cl-) down. But because of periodic boundary conditions, the Na+ ions and Cl- ions are getting closer and will eventually cross the Z boundary. Is this interpretation correct or wrong?
Thank you in advance for checking this topic.
Sincere,
Zhong Chen
email: [email protected]