Title: I need some clarifications on the Coulomb interaction in Lammps.
For pair potentials such as Born?CMayer?CHuggins, there is an adding Coulombic pairwise interaction which is expressed as: (Page 1103 in the latest Manual).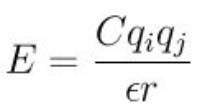 C is an energy-conversion constant. However, in some references(Masahiko Matsumiya, Ryuzo Takagi, Electrochimica Acta 46 (2001) 3563?C3572), the Coulombic interaction is:

Otherwise, some other references (Jamshed Anwar et al, J. Chem. Phys., Vol. 118, No. 2, 8 January 2003) formulate the Coulombic interaction as:

.
My questions:
What is the energy-conversion constant means? What is the value and unit of it? Does it have any relationships with the electrostatic constant?

Why the energy-conversion constant is ignored sometimes? Should I modify the energy-conversion constant to satisfy the references' expressions? If so, how to modify the energy-conversion constant.

Does the charge numbers are always integers? E.g. the charge of Na+ in NaCl is +1 with enough precision?
Thank you very much!