FYI.
J-OCTA seems to be a very useful software that interfaces with LAMMPS.
Ray
We send this email to all of our CAE software users, people who have taken our seminar class, people who have visited our booth at an exhibition, and those who have exchanged business cards with us.
Having trouble viewing this email Please click here.




J-OCTA, an integrated simulation system for polymeric material, is widely used in material R&D Center of Industry and University. J-OCTA predicts material properties with multi-scale technology (from atomic to micrometer scale) and supports the development of wide variety of high functional materials.
What's new on J-OCTA newest version V1.8:
The molecular library including complex structures (e.g. fullerene, PCBM) and inorganic crystal data has added.
GUI has changed more user-friendly on atomistic modeling, coarse graining and post-analysis tools.
New interface to run LAMMPS from J-OCTA has added and converter capability (between LAMMPS and COGNAC) has expanded widely.
Read More »

This is good news for LAMMPS Users.
A powerful interface for LAMMPS has added into J-OCTA. You can use J-OCTA as a Pre/Post Processor of LAMMPS. LAMMPS can be run directory on J-OCTA. Try J-OCTA if you are using LAMMPS and having hard time on preparing input data or verifying result data. You can use useful modeling tools for paramater estimating of Atomistic and Coarse Grained molecules. In addition, multi-scale simulation with Mean Field and Finite Element Method is available.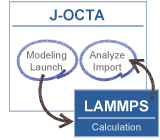 LAMMPS is a molecular simulator developed by Sandia National Laboratories. It is an open source package that can be installed and run freely. For more information, visit http://lammps.sandia.gov/

J-OCTA FREE trial (90 Days) is available with fully function for you to evaluate J-OCTA. Try J-OCTA and experience friendly operation, advanced feature and accuracy. To request free trial, click here and fill in "Request the J-OCTA FREE TRIAL" in message area please. (We will send License and inform of download site you after receive your request).
Recommend Platform : Microsoft Windows.
More detail … http://www.j-octa.com/products/index.html#system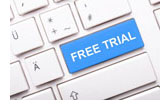 248th ACS National Meeting & Exposition
August 10-14,2014 at Moscone convention Center, San Francisco, CA , USA
J-OCTA has a Booth # 933 in Exhibition Hall. Come and see newest J-OCTA.


Computational condensed matter : advances and challenges
September 8-9,2014 at UCLan Westlakes campus, The Lake District,UK
J-OCTA will participate as sponsor.


7th DIGIMAT Users' Meeting 2014
October 21-23,2014 at Crowne Plaza St Peter's Hotel, Rome, Italy
J-OCTA will participate as exhibitor. Please visit our booth.


J-OCTA User Conference 2014
November 21, 2014 at Tokyo Conference Center - Shinagawa, Tokyo, JAPAN
Detail information will be announced in few month.
See J-OCTA User Conference 2013 :http://www.j-octa.com/meeting.html#2013

Please forward this information to the person who will be interested in simulation system for polymer and J-OCTA.