Hi LAMMPS users,
I am trying to create an initial configuration involving a graphene foam
and then fill the voids of the foam with another compound. Ideally it
should look something like (ref: attached image: 'initial_system'). I have
tried the following:
** Used VMD to manually drag and drop the molecules in the void. But this
is difficult as the image breaks up if zoomed too much to make the
placement exact. I was able to make an initial configuration but the LAMMPS
simulation gave the following error.
*WARNING: Fix qeq/reax CG convergence failed after 200 iterations at 1 step
(src/src/USER-REAXC/fix_qeq_reax.cpp:739)*
*ERROR on proc 29: Non-numeric positions - simulation unstable
(src/src/nbin.cpp:125) *
Have also tried to work around this by running it at a very low temperature
of 0.01 K and also changing the convergence criteria and making it a bit
more tolerant. But neither of that worked.
The input script for this has been attached with this email.
I am looking an effective way to fill the pores. Things which might help:
1. Any post-processing tool/code that helps to extract the location and
size of the pores in graphene foam so that targeted placement of molecules
can be done.
2. A better visual tool - something similar to VMD, which can help with
manual drag + drop and placement.
Any help is appreciated, and thank you in advance.
Regards,
Suman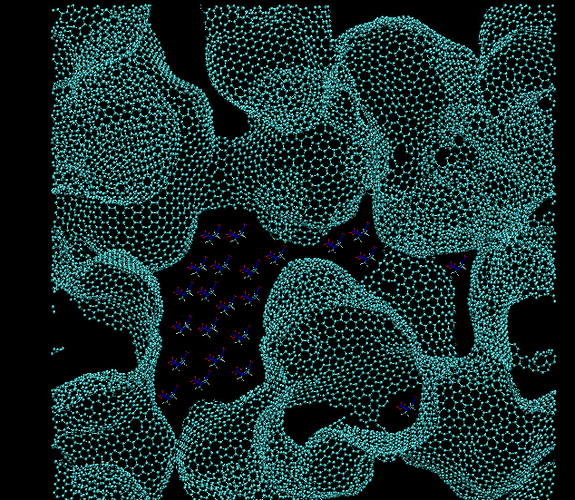 in.RDX (1.5 KB)