Hello,
I apologize if this has been asked/discussed before, but I have been struggling with a creating a doped structure, and have exhausted my knowledge set. I have successfully generated doped structures before, in this case specifically perovskites with single dopants, but am failing to apply the same process to a perovskite with multiple dopants, particularly to one site in the material.
My steps:
Pull Cif from MP database
Parse Cif
Decorate with AutoOxiStateDecorationsTransformation
Replace B site with ReplaceSiteSpeciesTransformation (four part fractional composition in B-site perovskite)
Create Supercell (This is where the error starts as I cannot get a supercell that has each component in nonfractional values or to within a 0.1 tolerance without creating like a 10 x 10 x 10, which is just way to big, so the values are like A site - 8, B site - 0.8, 0.8, 3.2, 3.2, C site - 24)
Order the structure with OrderDisorder (This still works to generate a set of structures)
Pull out one of the structures
Balance the O charge with ChargeBalanceTransformation (This is where I get an error below, which I believe is from the new fractional charge on O to which I cannot then reapply OrderDisorder)
ValueError: Occupancy fractions not consistent with size of unit cell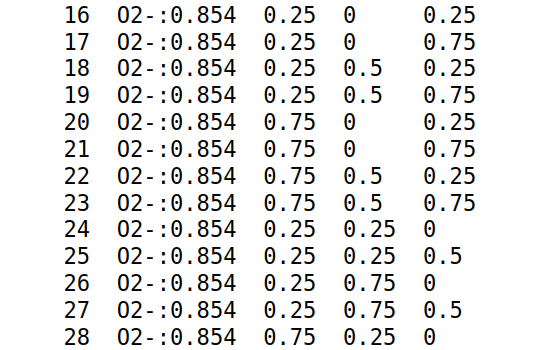 I have tried to apply another supercell transformation after charge balance to get nonfractional O, but no dice. I have tried several other substitution modules, but still have this issue. Is there a way to increase unit cell or other method to use?
I would greatly appreciate any direction you can give me.
Thank you.