Hi,
I am currently modeling the deposition of metal clusters on a single-walled carbon nanotube. After a large amount of cluster impacts (~20), the tube begins to collapse inward so that the cross sectional area of the tube is an ellipse rather than a circle. When this happens, the clusters fail to deposit on the "bent" outer area of the tube, but form a coating everywhere else.
Is there a way to prevent this from happening via a relaxation strategy? I don't want to treat the tube as an explicitly rigid or undeformable body.
The first part of my code follows. If I should provide anything else for clarity, I would be happy to.
Thanks,
Alex
#----------Sim Parameters-------------
units metal
dimension 3
boundary p p p
atom_style atomic
variable latparam equal 3.52
newton on
#----------CNT Creation---------------
read_data input.atoms
region CNT block 0 40 0 40 0 50 units lattice
group CNT region CNT
Potentials
pair_style hybrid airebo 3.0 eam/alloy morse 3.0
pair_coeff * * airebo CH.airebo C NULL
pair_coeff * * eam/alloy Ni99.eam.alloy NULL Ni
pair_coeff 1 2 morse 0.234 1.975 2.27 3.0
mass 1 12.0111
mass 2 58.6934
minimize 1.0e-15 1.0e-15 10000 10000
min_style cg
dump 65 all xyz 100 dump.xyz
reset_timestep 0
timestep 0.001
velocity all create 300 12345 mom yes rot no
fix 1 all nvt temp 300 300 100
fix 2 CNT momentum 10 linear 1 1 1
fix 3 CNT momentum 10 angular
thermo 20
thermo_style custom step temp
run 1000
unfix 1
-------------Cluster Deposition-------------
reset_timestep 0
fix 1 all npt temp 300 300 1 z 0 0 100 drag 1
region C1 block -1.76 1.76 10 11.76 0 48 units box
lattice fcc ${latparam} orient x 1 1 0 orient y -1 1 0 orient z 0 0 1
create_atoms 2 region C1
group C1 region C1
velocity C1 set 0 -0.8 0
run 1500
#---------More clusters deposited in same fashion----------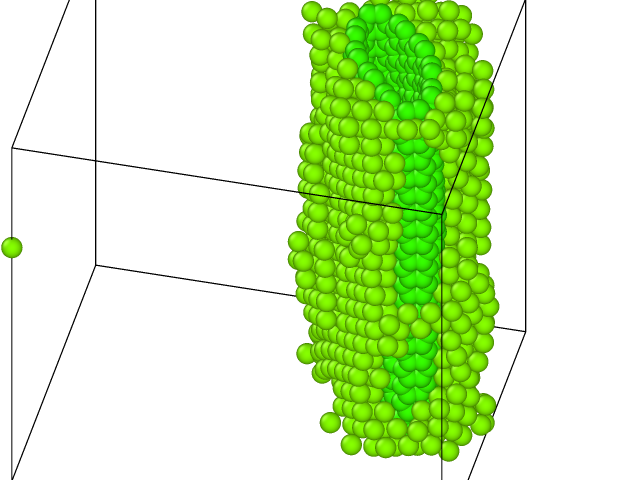 ​