Dear all,
I'm trying to calculate the thermal conductivity of TiO2 using NEMD (via fix langevin). In my simulation domain, I have a Source, Sink, Sample, and the fixed atom regions as shown below. Using LAMMPS 29 Sep 2021 - Update 3.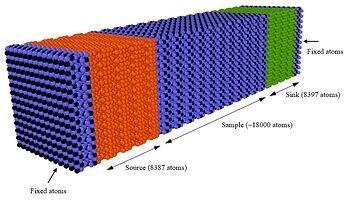 I'm controlling the Source and Sink temperatures using two langevin fixes to 350K and 250K respectively. Number of atoms in the two regions are almost the same. However, the cumulative energy given from the two fixes to hold the two temperatures are significantly off from one another (having about 1000Kcal/mol difference, see the figure below) questioning where that excess energy went. I checked the energy conservation of the system and it is conserved. Time intergrating the atoms in the Source, Sample, and the Sink regions only. Therefore atoms in the Fixed atom regons cannot exchange energy with the Source/Sink. Any comment on the issue is highly appreciated.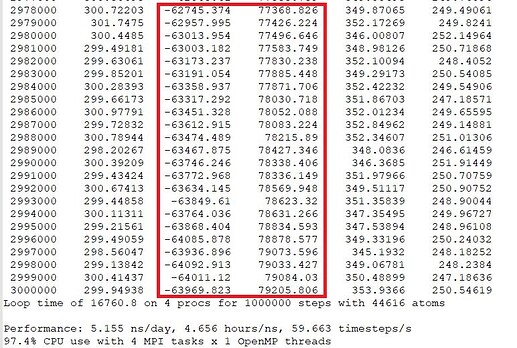 Thank you, Best regards.
Chamara.