I'm using LAMMPS version 23 Jun 2022, on Centos 6. I have installed the reaxFF package bundled with lammps and ECHEMDID-23jun2022
Hello, I'm trying to simulate the behavior of 1M of LiPF6 in Ethylene Carbonate under an electric field in order to establish a baseline for my future simulations. In this process I decided to use ReaxFF and ECHEMDID, as the force field and electric field implementations to run my simulations. However, upon equilibration, my PF6 molecule splits apart with all the flourine atoms repelled from the P center.
I would like assistance from people who have conducted similar simulations and whether this kind of behaviour has been observed earlier.
Here is a relevant snippet from my input deck
#################################################

#init

units real
atom_style charge
boundary p p s 
read_data electrolyte_LiPF6_40A.data
pair_style reaxff lmp_control 
pair_coeff * * ffield.reax.CHOSLiPF C C C F F F F F F H H H H Li O O O P 


#minimisation
fix chg all qeq/shielded 1 10 1.0e-10 500 reaxff
thermo 1
minimize 1.0e-12 1.0e-12 10000 10000

#ECHEMDID



variable zmin1 equal bound(all,zmin)
variable zmax1 equal ${zmin1}+0.2
variable zmax2 equal bound(all,zmax)
variable zmin2 equal ${zmax2}-0.2


fix             0 all property/atom d_locpot d_lap
compute         0 all property/atom d_locpot d_lap

region bound1 block INF INF INF INF ${zmin1} ${zmax1} units box
group z_left region bound1
region bound2 block INF INF INF INF ${zmin2} ${zmax2} units box
group z_right region bound2

set region bound1 d_locpot 0.0
set region bound2 d_locpot 0.0

fix 2 all echemdid 1 k 6.0 rc 4.0 norm 0.629967 nelec 25 z_left z_right volt 10.0

timestep 0.1
fix tres all nvt temp 1 300 100
run 30000
unfix tres
fix mynvt all nvt temp 300 300 100
run 50000
write_data electrolyte_min.data

################################################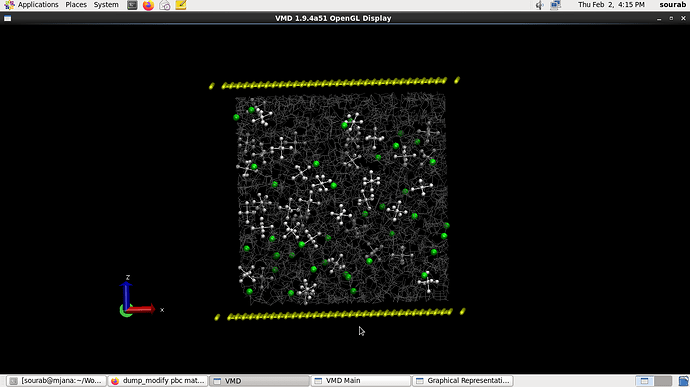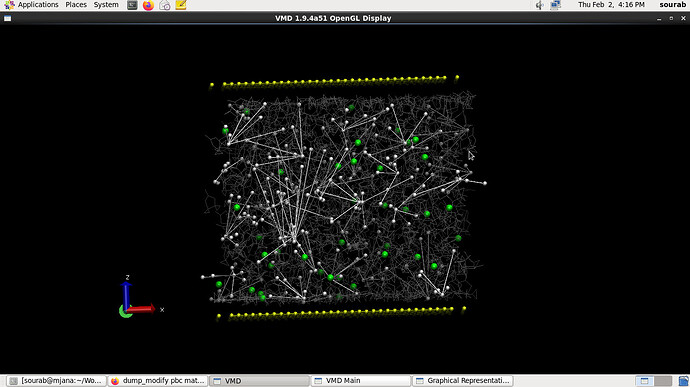 electrolyte_LiPF6_40A.data
(308.4 KB)
ffield.reax.CHOSLiPF
(24.9 KB)