Dear All,
We are attempting to use the LAMMPS AtC package to model quasi-static rupture along an interface of two materials. The proposed configuration is shown below.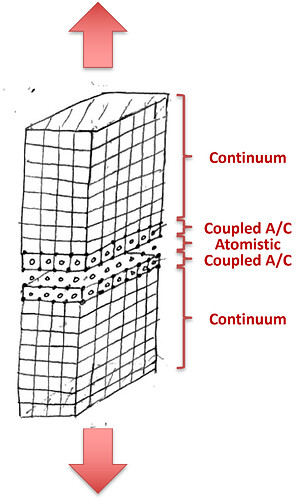 The objective is to model the system mostly as a continuum domain, with a thin interfacial region modeled atomistically. The system will be loaded uniaxially, quasti-statically, until decohesion within the atomistic domain. The goal is to fully separate the two sides and compute the resulting work of adhesion.
We have spent the last two months becoming familiar with LAMMPS and the AtC package. We have run a number of examples in the "/examples/packages/atc" directory, particularly those in the "/elastic" sub-directory. From this, we have developed a working knowledge of how to build input files for these models.
One issue we have run into is that the AtC package is unable to create more than one finite element mesh in the same simulation. Therefore, in order to model our proposed system, we will need to mesh the entire domain with one mesh. This is fine, as long as the finite element solver "turns off" those elements in the purely atomistic interfacial region. However, based upon example "/atc/elastic/bar1d", it appears that the mesh is still active and carries load in the atomistic region (see below). The model geometry is shown below, along with the FE force distribution in the x-direction at an intermediate simulation time.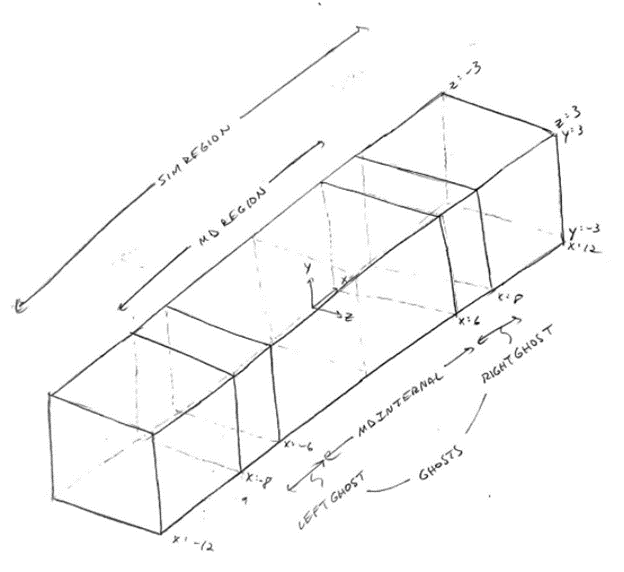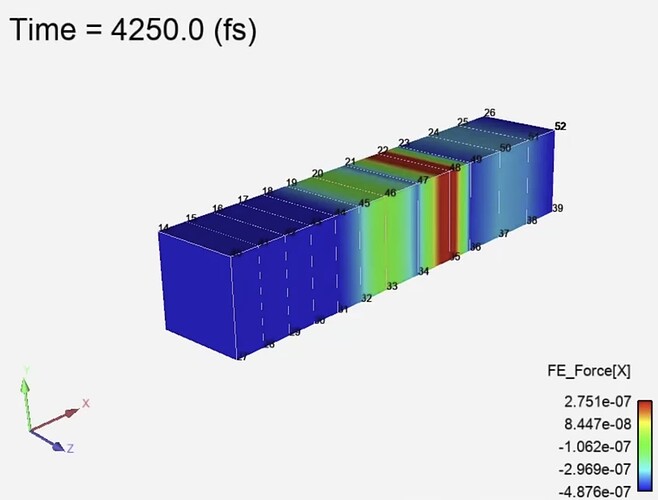 The latter shows the presence of FE forces in the atomistic region, despite the fact that the
fix_modify atc boundary
command is used in the input file to, presumably, define the boundaries of the FE mesh. Is it possible to simulate our system using the AtC package?