Hi All,
I used the Benchmarking Lammps examples to compare the performance of my machine ( AMD Ryzen Threadripper 3970X 32-Core, 64-Thread) with the given benchmarks. I have the following questions about how the performance is versus the number of cores used and would appreciate it if you could share your thought on this. A quick note that I have turned off the "Simultaneous Threading" (Intel's Hyperthreading) option on the Bios.
Why is the loop time of 2 cores using MPI and OMP (1 -thread per cpu) and 4 cores using OMP (2 Threads per cpu) is the lowest? There seems to be a correlation between the number of threads used and the minimum performance-number of cores.

Why is the % CPU used so low for 1 and 2 cores (2 and 4 processors in the case of OMP using 2 threads) used?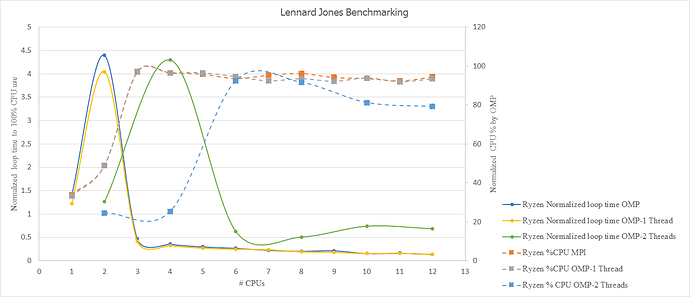 Best regards,
Amir Behbahanian
Mechanical & Aerospace Engineering
Utah State University
4110 Old Main Hill
Logan, Utah 84322
[email protected]