Hello,everyone, this is Rufer. I am modelling lubrication of hexane and Stearic acid confined in iron oxide slab as article( Nonequilibrium Molecular Dynamics Simulations of Organic Friction Modifiers Adsorbed on Iron Oxide Surfaces) mentioned. I use Berro's model to simulate iron oxide: the Fe and O atoms are attached together by harmonic spring as mentioned below:
The hematite slab atoms were restrained in the corundum crystal by harmonic bonds between atoms within 3 Å. The force constant of these bonds was chosen to be 130 kcal mol–1 Å–2, which has been shown previously to keep the surface structure suitably rigid but not to adversely affect the thermostatting
In my model,I repeat this setting,but when I give a pressure on the fixed layer of upper slab,the Fe atoms of fixed layer will be ejected.they are not move simultaneously as O atoms.here are vibrations of system snapshot when applying pressure on the upper slab.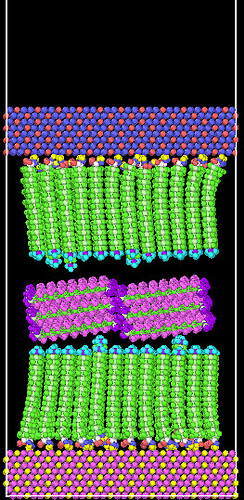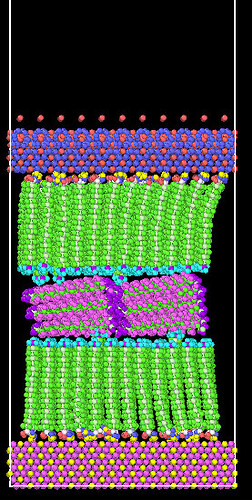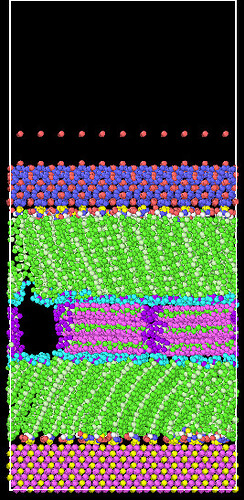 that's my file below,any advice will be appreciated.
best wishes.
my file