Dear LAMMPS users and developers,
In my research I try to figure out how many water molecules would adsorb on the surface of a TiO2-nanoparticle at different humidities. For this purpose I use the "fix gcmc" to run Grand Canonical Monte Carlo simulations from a datafile containing a nanoparticle with a certain amount of water relaxed on the surface (see attached input script for a simulation at approximately 100% humidity). Curiously, the same simulation running on different numbers of processors produces significantly different numbers of water molecules in the simulation box (see attached diagram and log-files). In the trajectory everything looks ok, while the temperatures in the log-files deviate slightly with varying no. of processors. The no of insertion and deletion attempts is always identical, while the number of accepted attempts deviates. From comparison to gcmc simulations of water on silica and to experimental results on titania the water amount resulting from the simulations on 4 processors seems most likely, which is even more puzzling for me.
Could you help me in figuring out the source of error in my simulations?
I use the latest stable LAMMPS version from the 1st of February 2014 for my simulations on a 4 core Linux machine with multithreading.
Thanks a lot
Jens
in.gcmc_particle_loop (3.14 KB)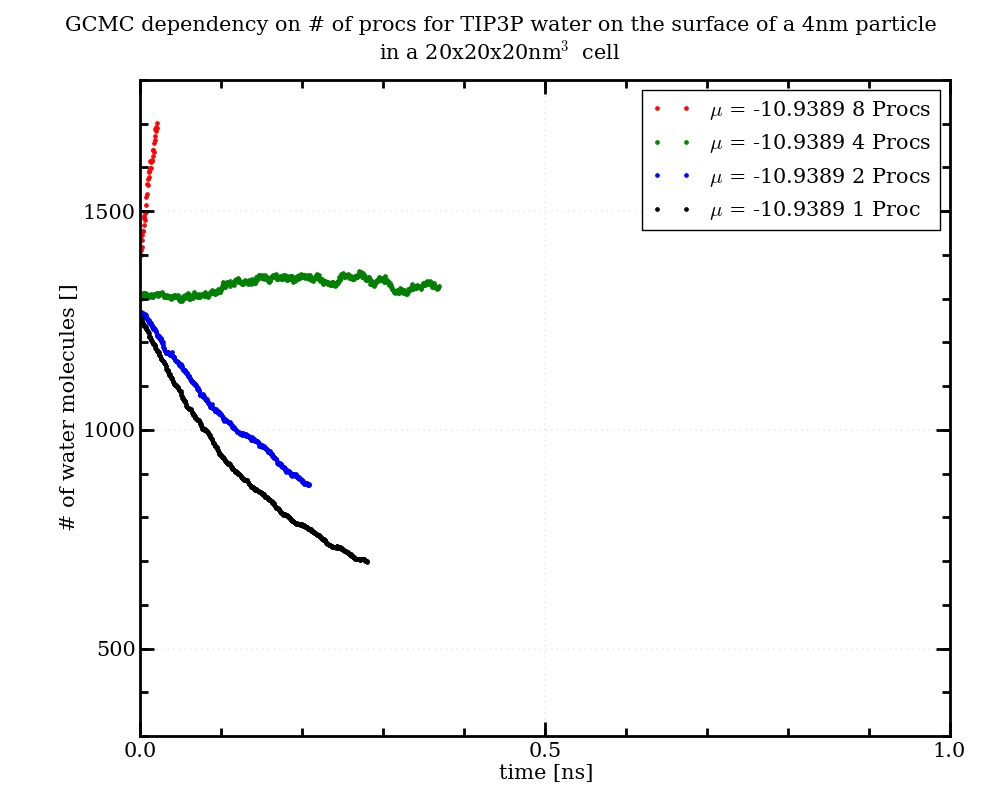 gcmc_particle_1proc.log (146 KB)
gcmc_particle_2procs.log (146 KB)
gcmc_particle_4procs.log (147 KB)
gcmc_particle_8procs.log (50.2 KB)