Hello,
I am having a vexing issue with a third-party potential behaving differently in 2014 and 2015 versions of LAMMPS. I am using the angular embedded atom Al-Si potential from the following source: GitHub - psaidi/AEAM: Angular embedded atom method code for LAMMPS. Two files (pair_aeam.cpp and pair_aeam.h) must be included in the src directory of LAMMPS during compilation.
A basic script that demonstrates the problem (reading the potential energy of a small Al-Si structure) is attached here. The steps to reproduce the error are as follows:
Compile lammps with aeam files in src directory
Run the script PE_calc.in
Using the 2014.06/28 version of LAMMPS, the potential energy calculation gives reasonable results. Using 2015.02/15 or later versions, the potential energy is extremely high (indicating that the simulation has blown up) despite a successful compilation on step 1.
During step 1, warning messages are generated for 2015 or later versions as attached: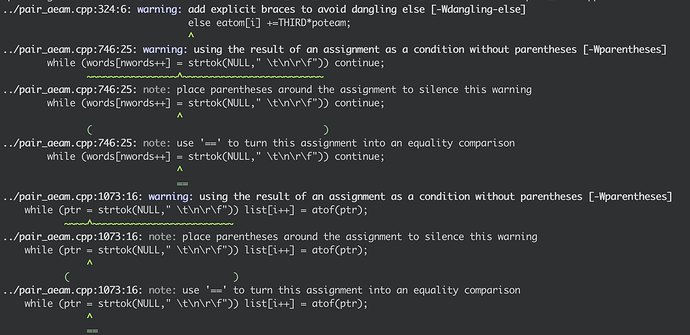 They seem to be related to the syntax of the energy calculation in the potential file. Note that the compilation runs to completion and that these are just warning messages.
A separate, but possibly related issue, even for 2014 versions, is that the sum of per atom energies in a given Al-Si system is not equal to the total potential energy at 0 K (calculations only give expected results using the total potential energy). This mismatch is mysterious to me, but seems like it must be related to how the potential is coded.
I understand that this is a very specific issue to third-party lammps code, but any debugging advice or insights would be appreciated. If I can make this potential work with 2015 or later versions of LAMMPS, I will have access to other fixes that are needed for my intended simulations.
Thank you,
Ian