Dear Prof. Thompson,
A few days ago, I asked you a question about the use of fix rigid/npt. There is only a particle containing 120 formic acid molecules in my system, and I use fix rigid/npt to keep the temperature and pressure. The simulation crashes after some steps. Then, you gave me a suggestion:
"Don't start the main simulation with a system that is very far from equilibrium. I did a test where I first equilibrated the system using fix npt/rigid, but stopped it before it crashed, so the density was close to the equilibrium value (not off by 10x like your simulation). I then did unfix npt/rigid and issued a new fix npt/rigid command to reset all the internal variables the fix. After that, the simulation remained stable. See attached script."
However, when I test the 'in' file you gave me, the simulation still crashes at about
77000 steps. I have found that the volume of the system gradually decreases with time, and finally the error occurs: "Out of range atoms - cannot compute PPPM". The pressure of the system is shown as follow: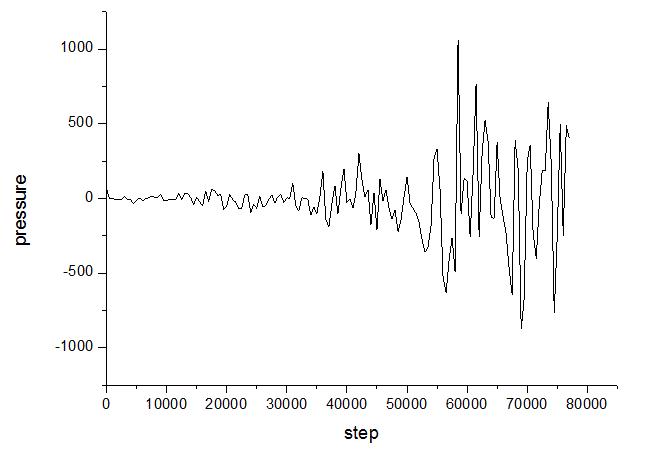 I do not know where the mistake lies, so I hope you can give me some help again.
I put the "in" and "data" file is in attached script.
Thanks very much, and I am looking forward to your reply.
Best regards!
Zhang Chao
0nacl0h2o.lammps05 (165 KB)
in.ch2o2_fast (2.52 KB)