Hi all,
I have a 3-dimensional granular packing that is enclosed by a rectangular cuboid (l x w x w). 2 of the directions of the cuboid correspond to the width dimension, w, which is periodic and there is a reflective wall bounding the simulation in the l dimension
I've added a picture to get a better understanding…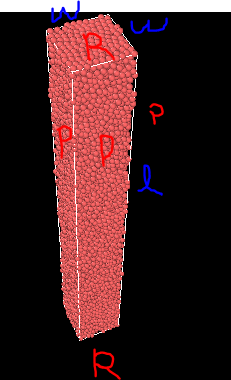 My apologies for it being rudimentary but P denotes periodic in that direction and R denotes the reflective wall on the top and bottom.
I initialize the packing without gravity such that there is a packing fraction close to the critical RCP volume fraction of 0.64 but not exceeding it…i.e pressure is 0.
My goal is to confine this initial state such that there is an initial pressure and the granules are equilibrated such that there is negligible kinetic energy (rotational+translational) when viscosity is removed. I am using pair/gran/hertz/history with tangential effects and use NVE for time integration.
The main approach I used was using fix deform on the periodic dimensions and compressing at a slow strain rate. Then unfix this command and let the granules equilibrate with fix viscous. What I found is that fix viscous does not dissipate translational or rotational kinetic energy even when acting for large times and these energy values remain almost constant although there is a finite pressure.
Pertinent code is as follows
units si

timestep 1e-6

fix 1111 all deform 1 x vel -0.05 y vel -0.05

run 		14000

unfix 1111

fix  12 all viscous 10

run 1000000



Is there another way I can achieve what I want? Any help is much appreciated.
Is it also possible to use fix controller to move the position of the periodic box so that the pressure can be controlled? I tried doing this but kept getting a floating point error.
Thank you!