Hi,
I am trying to write a compute function to find the truncated radius of a granule. By that I mean, if one granule is considered, depending on how that granule is compressed, it will expand from its initial nominal radius. The new radius is given by a closed-form solution which is dependent on the center to center distance between touching/neighboring granules. If you look at the figure below, essentially I'd like to loop over neighboring granules, find the little h, and use the closed-form equation to update and find the new large R.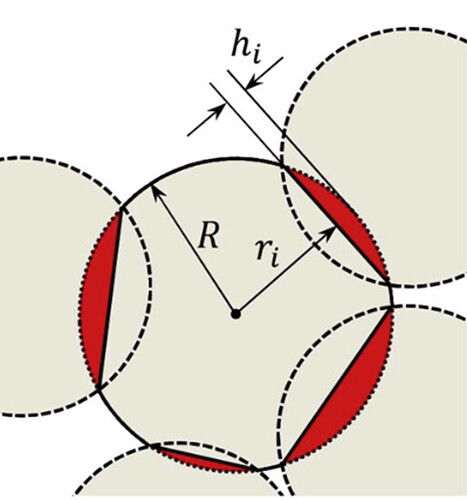 There are a few caveats though. One is that this compute involves history-dependent values (i.e. the value of little h influences terms in the closed-form solution). How can I keep track of that within the compute? For example, if the instantaneous little h is smaller than its previous value, that contact has less influence on the closed-form expression.
However, I believe this can be obtained by writing a compute. I have several questions I hope you don't mind me asking.
When a compute is invoked, is it calculated at the beginning of the timestep?

How can I keep track of history-dependent values within compute? i.e h and the new truncated radius R

Is there a similar compute function that I can use as a template?

Potentially, what files would I have to modify when writing this compute?
Thanks in advance! Appreciate any help as I'm still learning how to modify LAMMPS.
Best regard!