Hi,
I was trying to use hiPhive to calculate thermal properties in the harmonic approximation for CdTe. The fitting seems good (test force RMSE of 17 meV/Å) but the dispersion curve obtained with hiPhive differs significantly from the phonopy one (see figure below).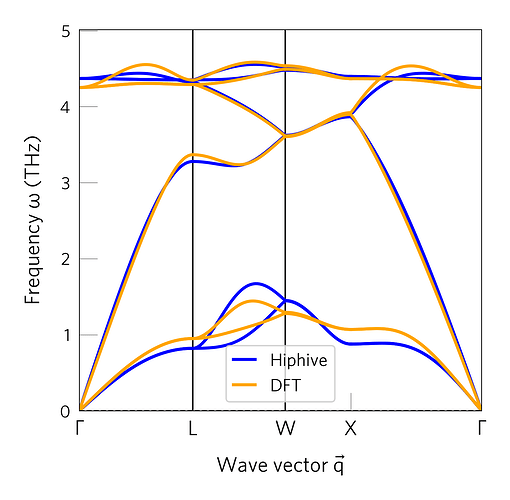 I've tried the following things:
Different standard deviations for the rattle (std=0.02 Å, 0.03 Å)

Convergence with cutoffs for the different orders (converged with [7.0, 5.0, 3.0])

Convergence with the number of force components (converged with ~400 force components)

Separate long-range and short-range interactions following the example in the tutorial: the dispersion curves (phonopy with NAC and hiphive with NAC and LRC) differ even more


Larger supercell: tried 3x3x3 (13.7 Å, 54 sites) and 4x4x4 (18.4 Å, 128 sites) of the primitive cell. The dispersion curves for the larger supercell (4x4x4) are slightly more similar when including NAC but still differ significantly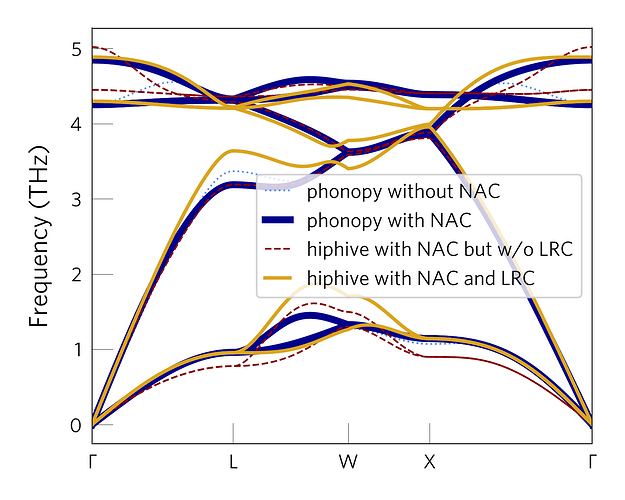 Is there something I'm missing?
Thanks in advance!