Hi, guys
I am running the EMD simulations of 5-site CH4 confined in (10, 10) CNTs, using the Lammps version (10 August, 2015). I have a very particular and fundamental question regarding how Lammps deals with the pair interactions between two rigid molecules, i.e. when the cut off radius applies, is it applied on the distance between the center of masses of two molecules or any two individual atoms directly?
For instance, depicted in the Figure below, when the distance between the center of masses of two methane molecules are within the cut off radius, should we
(1) include the interactions ( L-J and Coulomb) for all the pairs of atoms belonging to these two molecules, although most of the individual pair of atoms are out of the cut off radius;
(2) or only considered the pairs of atoms are located within the cutoff radius?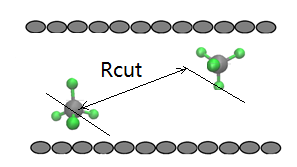 In the first case we guarantee the electrical neutrality of the methane molecules, while the second case breaks this fundamental rule and generally induce unexpected high interactions (inter molecular forces) between these two molecules. I learnt from the Lammps manual that, Lammps follows the second case to utilize the cut off to handle the L-J and Coulomb interactions for rigid molecules. However, I cannot convince myself this is a correct way to do this, and since this is so fundamental I hope you guys can help me out of this.
Best Regards
Lang