Hi everyone
I'm trying to build a simulation of ice Ih with the ice optimised parameters of the TIP4P potential (https://doi.org/10.1063/1.1931662 and https://lammps.sandia.gov/doc/Howto_tip4p.html), however, I get melting temperatures around 360 K at 1 atm instead of the close to 273 K described in the paper. I've tried various tweaks and twists to get closer to the 273 K but without success. I've among others tried varying the time step between 0.1 and 2 fs and run up to 2000000 runs.
Can you pinpoint what I've missed or done wrong? Or explain why the results from the TIP4P/Ice paper cannot be reproduced?
Thanks!
I've attached the input structure (ice_Ih.lmp) and a screenshot of it (ice_Ih.png).
Here is my input script:
units real
atom_style full
read_data ice_Ih.lmp
include tip4p_ice.potential
neighbor 2.0 bin
neigh_modify every 1 check yes
timestep 0.5
variable Nrun equal 1000000
variable Ndump equal 500
variable Text_start equal 300
variable Text_end equal 300
variable Pext_start equal 1.0
variable Pext_end equal 1.0
velocity all create ${Text_start} 122334 dist gaussian mom yes rot yes
fix contrain all shake 0.0001 100 0 b 1 a 1
thermo 100
thermo_style one
thermo_modify lost warn norm yes flush yes
dump trj all atom ${Ndump} ice_ih.lammpstrj
fix integrate all npt temp {Text_start} {Text_end} 100.0 iso {Pext_start} {Pext_end} 1000.0
run ${Nrun}
write_restart restarted.end
######### END ########
And the tip4p_ice.potential file:
TIP4P/ice for LAMMPS. Parameters set according to
group hydrogen type 1
group oxygen type 2
set group oxygen charge -1.1794
set group hydrogen charge 0.5897
mass 1 1.008 # H
mass 2 15.9994 # O
pair_style lj/cut/tip4p/long 2 1 1 1 0.1577 8.5
pair_modify tail yes
kspace_style pppm/tip4p 1.0e-5
pair_coeff 1 1 0.0 0.0
pair_coeff 1 2 0.0 0.0
pair_coeff 2 2 0.21084 3.1668
bond_style harmonic
bond_coeff 1 0.0 0.9572
angle_style harmonic
angle_coeff 1 0.0 104.52
Yours sincerely,
Tor Blaabjerg Sørensen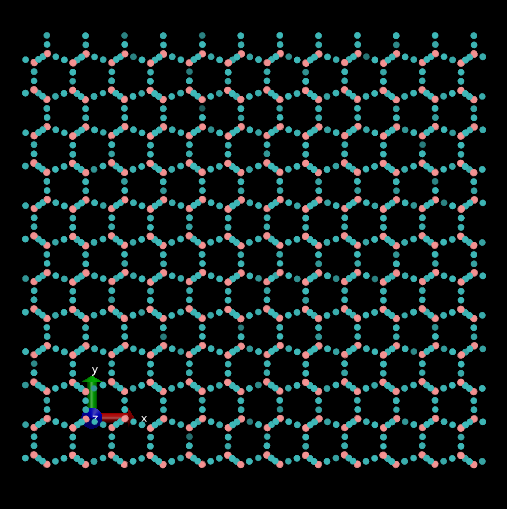 ice_Ih.lmp (590 KB)