Dear LAMMPS users,
I'm trying to simulate a polymer model which is based on this paper. In this paper the authors have taken
a polyMPC which consists of an aliphatic backbone with side chains at regular intervals as shown in below figure.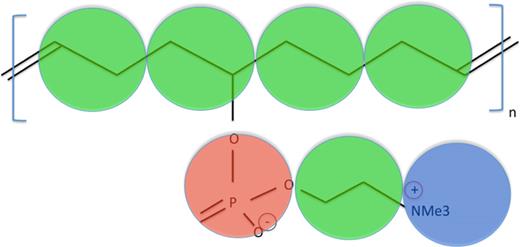 Each ethyl group is represented as a coarse grained bead. These are connected by harmonic springs to represent the linear backbone of the chain. Each side group is taken as a rigid rod consisting of three beads, anionic phosphate group, and cationic NMe+3 group at both ends of the rod connected by a hydrophobic ethyl group in the middle. The anion is connected to the backbone by a harmonic spring.
Further they also have mentioned,
To avoid any interference of LJ interaction on the harmonic bond potential, the LJ interaction between the adjacent beads along the backbone and also the LJ interaction between the backbone hydrophobic bead and the attached anion were turned off.
and lastly,
Finally the interaction between the beads within a side chain (rigid body) is turned off for computational efficiency. The beads of side chain interacts with the beads of backbone as well as the beads of other side chains but they do not interact with other beads in the same side chain.
With this background, I have a question regarding implementation of this in LAMMPS. I made such a scheme,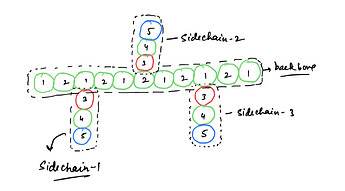 Say, I take 5 types of atoms. 1 & 2 belonging to the backbone whereas 3,4,5 belonging to the side chain. Since the interactions between beads within same sidechains are to be turned off. I excluded 3-4 & 4-5 interactions using neigh_modify but this will prevent interaction of atom type 3 from sidechain-1 to say atom type 4 from sidechain-2. So clearly, this will not work. If I assign every bead in all the sidechain a different type and then group the three beads in one group as, say, sc-1 and repeat the process for all other sidechains but again LAMMPS has an upper bound on both the number of atoms and number of groups and since I want to make this system for N=175 (N being number of repeat units) again this will not work. I thought of taking side chains atom type 3, 4 & 5 and group the atoms basing on atom ids and then using neigh_modify again this has the same number of group issue. I believe treating them rigidbody will be achieved via fix rigid/nve/small command. I havent implemented it yet. I got stuck with treating them non-rigid in the first place so I didn't make much efforts.
How do i implement the above mentioned protocol in LAMMPS? I tried mailing the authors but its been a while since I have received a response from them.
Thanks and Regards
Akshay