Hello everyone,
I am using Feb/2016 LAMMPS and I have a question regarding the use of fix wall/gran. Looking at the 02/2016 docs, the page says for fix wall/gran: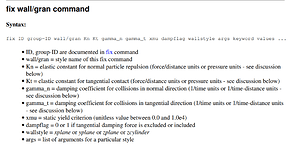 And then they say:
The nature of the wall/particle interactions are determined by which pair_style is used in your input script: hooke, hooke/history, or hertz/history.
How does that line discriminate between the respective pair styles because I can't explicitly declare which type of pair_style in the syntax for wall/gran unlike the current version of LAMMPS. By that I mean if I have the following syntax:
pair_style gran/hertz/history 8.4248e+10 0 0 0 0.0 0
pair_coeff * *
fix 5 all wall/gran 84248000000.0 0 0 0 0 0 yplane 0 1.99836522550
How does fix 5 know what pair_style to use? Does it automatically use gran/hertz/history for the specific params listed? What if I used gran/hooke for pair_style and wanted pair_style of gran/hertz for the wall? I tried specifying the pair_style the way they do in the 2020 docs and it doesn't work so I am guessing modifications have been made since then.
Kindly request your help.
Best,
Aved