Hi, this is my first time using EMC, and I've met some problems here.
I'm trying to make a semicrystalline bulk such as the image in the emc homepage.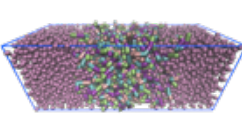 It seems like both sides are crystalline and amorphous in the middle.
when making the structure before running emc simulation, is the SMILES notation only to build it?
Or is there an other way to build the structure?