Hello, I am trying to simulate polymer degradation (i.e. breaking of chains or clusters) due to high temperature using ReaxFF force field in LAMMPS. I am using a relatively newer set of ReaxFF parameters (2020), which are capable to be used for high temperature experiments. The system was polymerized after subjecting a set of monomers to fix bond/create command and introducing dummy atom types for joining monomers.
The system (4250 atoms or 21 chains in a box) which is initially kept at room temperature, is then subjected to high temperature (1000K) and then brought back to room temperature. (image below)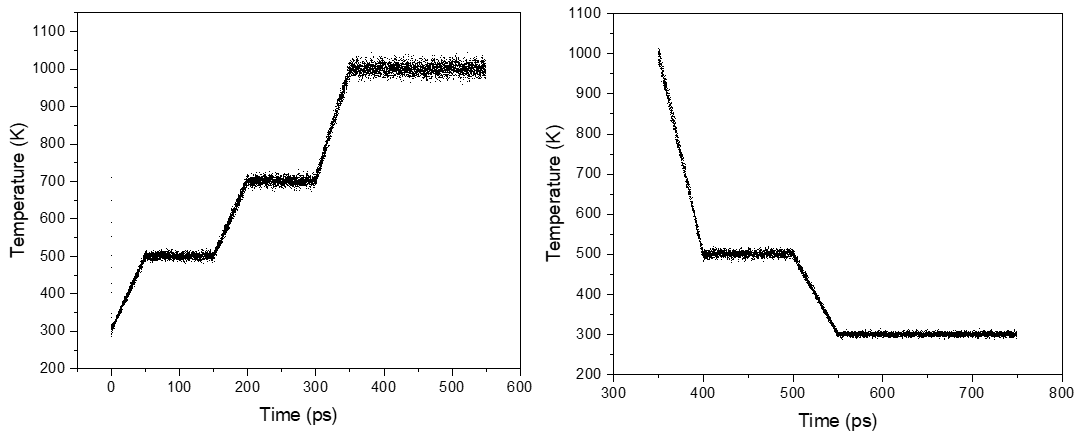 For the polymer system I am working with, the existing clusters (independent molecules) should breakdown into smaller fractions because of broken bonds at high temperature. i.e. smaller fractions should gradually increase, larger fractions should gradually decrease. However, I observed some strange behavior contrary to my expectation:
The number of cluster goes down with progress of simulation:

Moreover, the fractions are multiples of the monomer, signaling that inter-monomer linkage is the weakest link in the chain segment and not any bond within the monomer. (As per chemistry for my polymer, the bonds within the polymer should also break at high temperature) However, no fractions present were fragments of monomer, but all of the fractions were multiples of monomers.
Bond orders (BO) of all the bonds present in the system were logged and observed at two different temperatures 500K & 1000K. (Timestep 510000 and 5500000 respectively) It was expected that at higher temperature bond order would reduce because of weakened bonds (longer bond length). However, the bond order difference i.e. BO_500K – BO_1000K when plotted came out to be a curve with random distribution of points: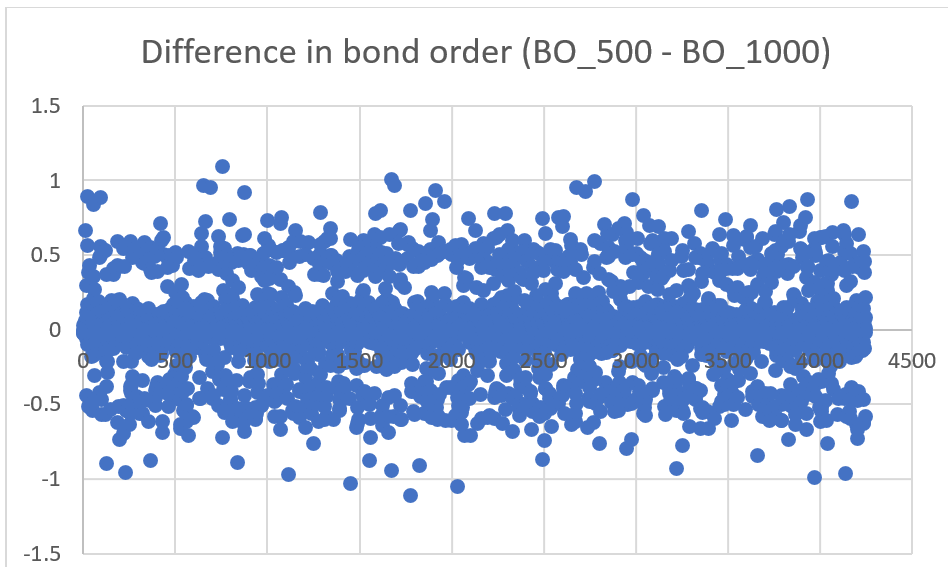 Can I get the system to work as per the chemistry of the polymer at high temperature? Any thoughts would be appreciated.