The system consists of 1000 particles (not interacting with each other) which are subjected to a Langevin bath. The corresponding fix is as follows:
fix fxlang all langevin 298 298 0.077855 8765 angmom no
I chose the damping factor so as to mimic Xenon particles in water.
The time step for the simulation is 1fs.
I have dumped unscaled positions and velocities in a dump file and used those to generate the distributions for displacement and velocity.
It is expected that both displacement and velocity will have a Gaussian distribution with 0 mean.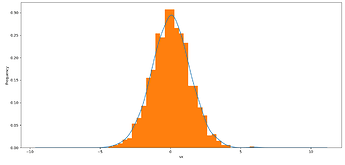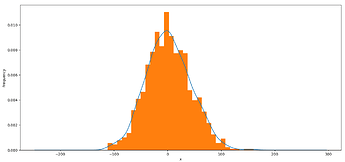 I have shown the histograms for velocity (left) and displacement (right), the corresponding mean values are 0.05 Å/ps and 2.1 Å. Considering that the "size" of Xenon atoms is roughly 3.9 Å, this error seems to be too large.
I thought that increasing the number of particles might improve the distribution, so I took 10,000 particles and repeated the steps. The mean values were 0.001 Å/ps and 0.5 Å.
Are such errors acceptable or are there any ways to fine tune it ? Or am I missing or ignoring some factor ?
Thank you.