Dear Lammps Users,
I am simulating Be system of particles whose lattice is described below(HCP). Z-dimension is kept in periodic. As a rule if any dimension is in periodicity, it should be defined in such a way that it should be in integral multiple of the lattice constant in that dimension.
Although I am using a multiple of 'variable c' (28 times of c in this case) but atoms are getting unstable at the boundaries.
Kindly suggest to make the periodicity work in Z-direction.
variable a equal 2.312646565
variable b equal $a*sqrt(3.0)
variable c equal $a*1.5682
lattice custom 1.0 a1 $a 0.0 0.0&
a2 0.0 $b 0.0&
a3 0.0 0.0 $c&
basis 0.0 0.0 0.0&
basis 0.5 0.5 0.0&
basis 0.0 0.33333333 0.5&
basis 0.5 0.83333333 0.5
variable xi equal 0
variable xm equal 200
variable yi equal 0
variable ym equal 80
variable zi equal -50.77369281
variable zm equal 50.77369281
# Simulation box
region s_box block 0 350 0 200 (v_zi) (v_zm) units box
The atoms are shown in Figure as below. they are loosing their structure at the boundaries.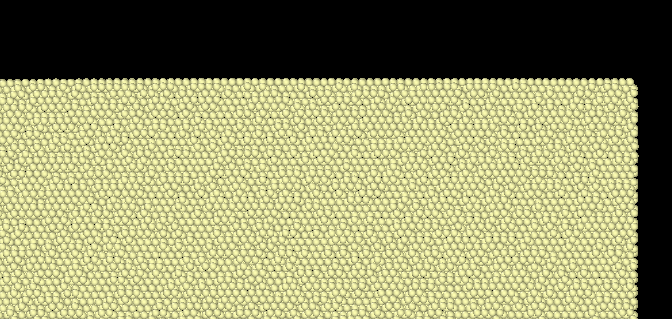 Regards.