Hello everyone,
Thank you very much for the great community.
I tried running an NVT ensemble with the following command lines for a polymer-water-Sodium system and can't seem to figure out why the system refuse to run. No error message was printed to enable me to decode the source of the issues. If you wish to rerun the simulation, please see attached the required files.
Thank you very much!!!
# ----------------- Init Section -----------------

include         "system.in.init"

read_data       "min.data"

include         "system.in.settings"

# ----------------- Run Section -----------------
#
group           water type 31 64
fix             1 water shake 0.0001 20 0 b 1 a 1
timestep        0.05
#
fix             2 all nvt temp 300.0 300.0 100.0
dump            2 all custom 1000 nvt_small_ts.lammpstrj id mol type x y z vx vy vz
dump_modify     2 sort id

thermo_style    multi
thermo          10

restart         2000 restart1_polymer_1_nvt_2 restart2_polymer_1_nvt_2
#
run             400000
#
write_data      nvt_small_ts.data
write_restart   nvt_small_ts.restart

The output after executing lmp_serial < nvt_run.in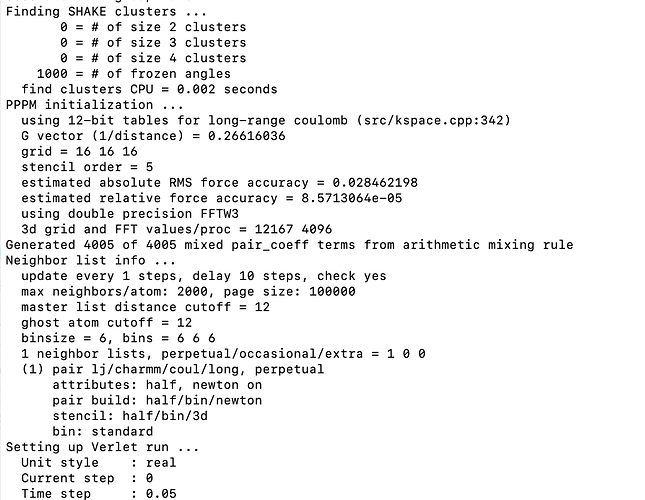 min.data (358.7 KB)
system.in.init (605 Bytes)
system.in.settings (856.1 KB)
nvt_run.in (681 Bytes)