Dear all
I have some questions about unit conversions in LAMMPS. That is, how to convert units Lj into real units. I have read the manual, which mentions reduced units, setting sigma, Epsilon, Mass, Boltzmann constants to 1. I don't understand how to convert according to the formula in the manual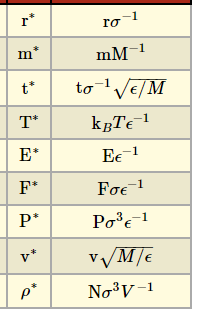 For example, in units Lj, if the volume size of the block is 30*30*30, I understand that it is a reduced length. When calculating the stress, I take Voronoi volume weighted average of the atomic stress to obtain the instantaneous stress of the system. I understand that this is also a reduced value, but how do I convert it to the units we use commonly, such as Pa and bar?
In addition, in the system, if I use the fix NVT temp temp command, is the temperature in the system also converted to reduced temperature?
If I find a self-consistent conversion of units, I can simply add units to the calculated value. For example, I have seen others take one (r~nm, m~kg, T ~ps, E~KJ*mol-1).