Dear all
I come across a problem when i do a simulation using tip4p.
The input script is:
fix fxLAN all langevin 300.0 300.0 5000 48279
fix fxNVE all nve/limit 0.1 #(<–needed by fix langevin)
dump 4a all custom 100 obs.dump id mol type xu yu zu
run 10000
unfix fxLAN
unfix fxNVE
fix fxshake all shake 0.0001 20 0 b 9 a 17
fix fxnpt all npt temp 300.0 300.0 100.0 iso 1.0 1.0 1000.0 drag 1.0
run 10000
When it finish nve/limit stage, it stuck at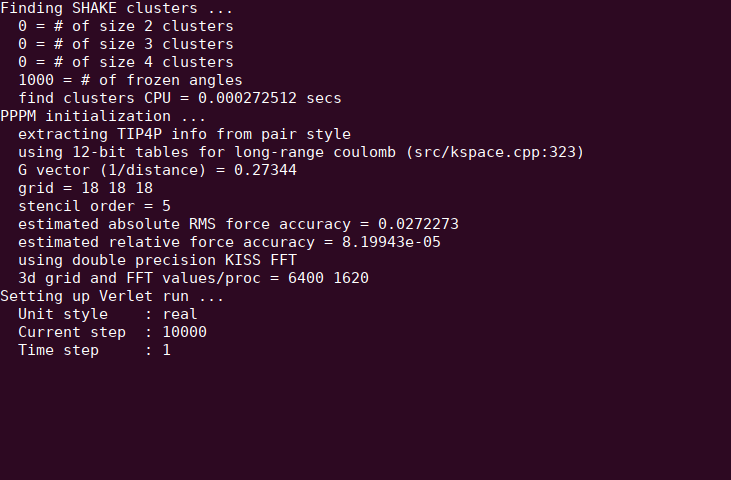 and the usage the cpu is full. There is no error raise after a long time wait.
This is the first time i do all-atom simulation and use long-range coul force, so i have no experience about it(question may be really stupid). Please give me some tips about how to fix this problem! The input files are attached.
Thanks in advance!
Roy Kid
University of Science and Technology of China
solvent.in (994 Bytes)
solvent.in.charges (305 Bytes)
solvent.in.init (287 Bytes)
solvent.in.settings (2.16 KB)
system.data (219 KB)